Wayne's World Blue AMC Pacer is up for Auction at Barrett Jackson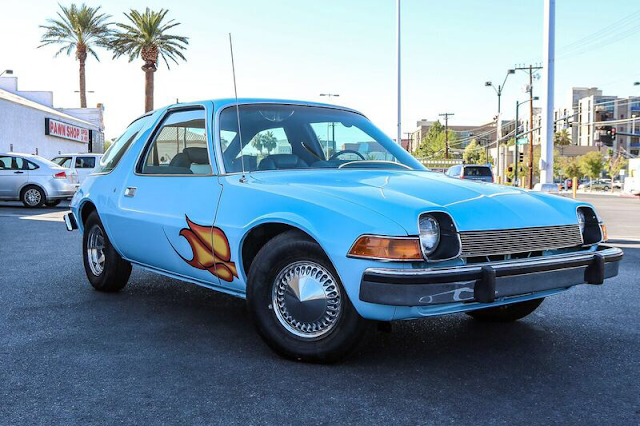 This is the original authentic Wayne's World AMC Pacer and it is up for auction at Barrett Jackson. This is sure to stir Gen X nostalgia, who wouldn't want to drive up in this at a car show. It would turn heads more than any Lamborghini or Ferrari. See more from Barrett Jackson below the photos.
From Barrett Jackson:
Lot #608 – This is the original 1976 AMC Pacer used in the iconic film "Wayne's World." Modifications made for the film included baby blue paint over the original yellow exterior and brown interior, tow hooks welded to the front subframe, 1/4″ steel plates welded to the rocker panels for camera supports, heater and air conditioning were removed, rear wheelhouses were modified to fit speaker boxes, a hole was drilled in the roof for the famous licorice dispenser, flame decals were added, and components were removed from the inner dash to accommodate the cup dispenser and a door mechanism above the sealed-off glove box. The studio also went with a purposely mismatched wheel combination of chrome spoked wheels in the rear and factory hubcaps in the front. Every effort was made in the car's extensive restoration to bring it back to its movie condition. All bolted-on body parts were removed and the exterior body was stripped to bare metal. Bumpers and original wheels were rechromed and the body was refinished with Nason base coat/clear coat to match the movie color. Seats and headliner were recovered, and all interior panels and dashboard were refinished. The only part of the restoration not true to the movie are the upgraded speakers and stereo (the 10″ restoration speakers are not functional as there never was an amp in the car). The stereo system is operational, however, and ready for you to do your own rendition of "Bohemian Rhapsody." All the props inside the car are original. The complete front end, including steering rack, was rebuilt. The exhaust, water pump, power steering pump, alternator, battery, belts and hoses are just some of the mechanical parts replaced during the refinish of the motor. Other items restored or refinished include the grille, headlamp doors and bumper cushions; all moldings and the weatherstripping were replaced. NOS taillight lenses, front hubcaps and parking light lenses were added to the restoration.
Hate, Love, Want, Have a Story or Have Another One For Sale? Let us know in the comments BELOW.