Toyota Land Cruiser Mudder Truck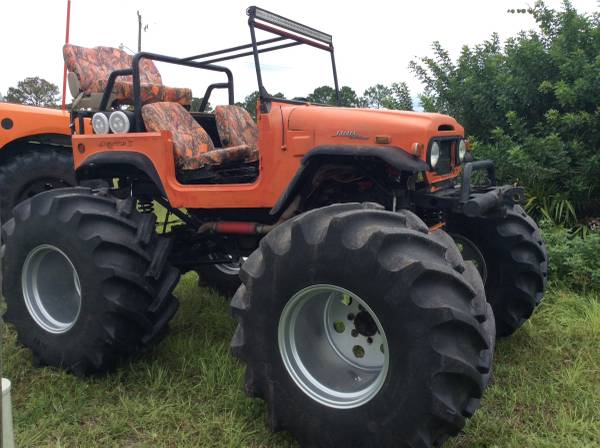 Toyota Land Cruiser FJ40 Mud Truck
I'm not sure how much Land Cruiser is left on this truck, but I have never seen another one like it. This is how they 4×4 in Florida and they call it Muddin. This has to be a blast to drive and it would be sure to get a ton of attention. Looks like the only thing that this Land Cruiser is missing is the snorkel.
From the seller's description on Craigslist.
Toyota land cruiser with sbc 350 bored 60 over its on 28lr26 Goodyear super traction tires there 63″ tall 28″ wide it does float its on coil springs and 4 linked with 12″ scs drop box that's 3. 1/2 to 1 gear ratio has built 400 turbo trans radiator has been relocated in back with cooling fans has 4. 8″ speakers and 4. 6″ speakers on 1500 watt amp located Lehigh acres 18k obo could consider trade flats boat truck motorcycle
Like This Car or Hate This Car? Let us know in the comments.