Rare 2 Door 1st Generation Nissan Pathfinder 1988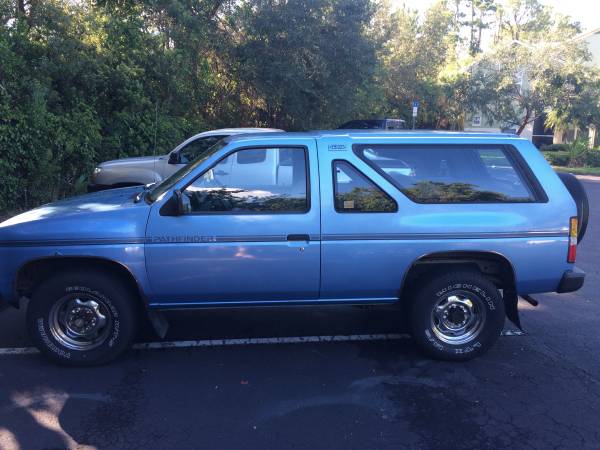 1988 Nissan Pathfinder 2 Door
With the rise of crossover suvs, the real suvs with body on frame construction are fading from the landscape. Look for them to become classics. Nissan's Pathfinder was ahead of the times in the 1980s. The 2 door models are rare and very hard to find. Here is a nice looking example for sale in Florida on Craigslist.
From the Seller:
988 Nissan Pathfinder XE:
– Bright blue metallic exterior
– Blue cloth interior
– 147,911 miles
– 3.0 L V-6 engine
– 5-speed manual transmission with 4WD
-Sony aftermarket stereo with CD-MP3 and USB connection
-New timing belt, water-pump and radiator 04/16
-Clutch slave cylinder and transmission hydraulic system replaced 10/15
-Liftgate hydraulics replaced 05/15
This vintage of Pathfinder is very hard to find in good condition with low miles without modifications.