ISUZU Vehicross 1999 4×4 Lifted 37 Inch Tires and Solid Axle Swapped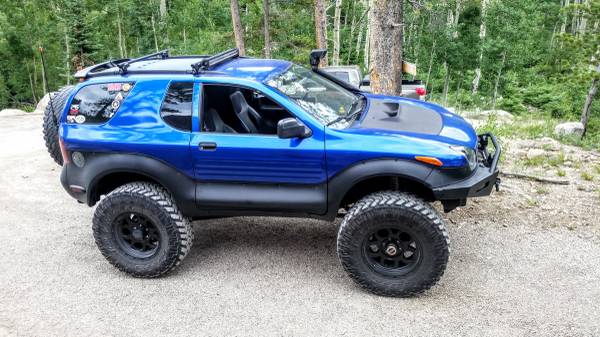 ISUZU Vehicross Lifted on 37s
Isuzu's funky Veicross was ahead of it's time. The truck is aging well and almost guarantees that you will be unique. This example is heavily modified by an off road enthusiast who has receipts for over $10,000 in parts alone.
From the seller on Craigslist.
Up for sale is a very unique, truly one-of-a kind Vehicross (VX). This VX has been solid axle swapped with a Dana 44 using Y-link suspension and ORI Struts. It has excellent articulation off road but remains composed enough for highway speeds. Just last weekend, I took the VX on a 400 mile road trip to Salida for a weekend getaway and trail run. It's a very reliable rig and has never, EVER let me down. I've owned this VX for 7 years and have slowly built it to what you see today. I completed the major SAS work in 2015, investing over $10,000 purchasing high quality parts for the SAS. Almost everything is custom, making this one of the most unique vehicles in the world. I have two forum build threads online, documenting almost every modification completed since 2012. I have spent 1000s of hrs building this rig and am reluctantly posting it for sale to find a replacement vehicle with more room for my growing family. You will not find another one like it. Feel free to contact me with any questions. Email, text, or call— Just no calls after 8PM please.