Daihatsu: Midget II – Microcar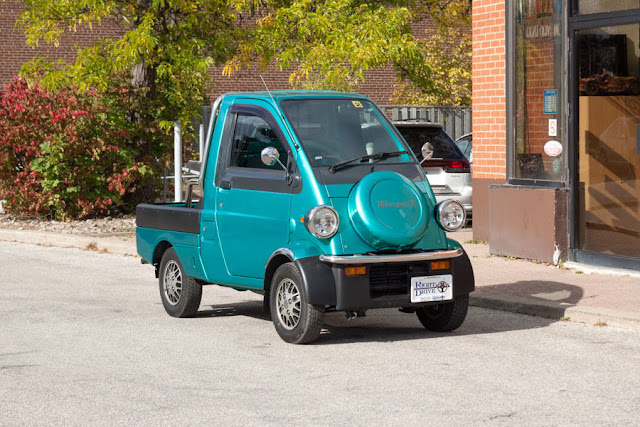 This must be terrifying to drive on American roads. This little Japanese Kei Class pickup truck would fit in the bed of a F-150. However, since these were not sold in the US they do have a certain novelty.
The seller on
eBay
is asking $13,985 Canadian obo. See more from the seller below the photos.
This eye catching Daihatsu Midget II is like new. Only 6,200 KMs on it, and it shows. Not many of these single driver ultra micro trucks available in such great shape anymore.
This vehicle also has A/C which is a rare option on these trucks.
They're great ON and OFF the roads, these kei class mini-trucks have a small turning radius allowing them to maneuver well in confined spaces.
Equipped with a small but powerful and efficient 660cc engine, they're great performers in a variety of situations.
This vehicle is available to US Customers! It can be used for farm use, and currently it cannot be licensed for road use until it's 25 years old.
When that happens the value may go up, so don't wait until then!
Millage in listing is in miles converted from KMs on the dash, it has only approximately 6,200kms on it.
Hate, Love, Want, Have a Story or Have Another One For Sale? Let us know in the comments BELOW.