1996 Turbo Diesel Toyota Land Cruiser HDJ80 VX Overland Conversion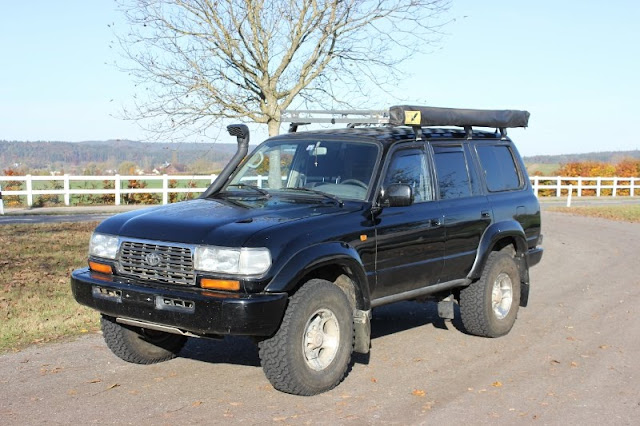 The Diesel 80 Series Land Cruisers have never been sold in the USA. Since we all want what we can't get, the prospect of getting it is rather exciting. See more from the Seller on
Ih8Mud.com
. The seller is asking $39,000 US.
It comes with the legendary 1HD-FT Diesel Engine. We were getting over various terrain on average 26 miles to the gallon! With the fitted auxiliary tank that gives a range of over 900 miles! Also in the top left corner of the engine bay you can see the massive compressor. Connect the air hose to the tank below the drivers door and air up after offroading in short time.
1996 Toyota Land Cruiser HDJ80 Diesel! (European Specs) 180'000 current mileage
26 mpg!
OME heavy duty suspension including caster kit
New BFG All Terrains 285/75 R16
African Outback roofrack
Eezi-Awn Bat 270 deg awning including sidewalls
Box on the roof including Solar Panel (not shown on pics)
IBS Dual Battery System
Underbody protection
Manual Transmission
3 locking differentials
Air conditioning
Cruise Control
Heated seats
Built-in air compressor with reservoir
65l Auxiliary fuel tank offering range of 900 miles
Front Axle overhaul done
New brakes
Injectors replaced
All oils changed
various service/spare parts can be supplied with the vehicle
Vehicle is in excellent condition!
Details about the build:
Waeco electric compressor fridge
Optima Yellow Top Aux battery
LED lights
various USB and cigarette lighter power outlets
45l water tank with pump and shower hose
2 long drawers
propane stove (2-burners)
Solar Panel
Sleeping platform
Custom matress sleeps like at home
Mosquito net
Hate, Love, Want, Have a Story or Have Another One For Sale? Let us know in the comments BELOW.