1990 Daihatsu Rocky 4×4 For Sale in Denver, Colorado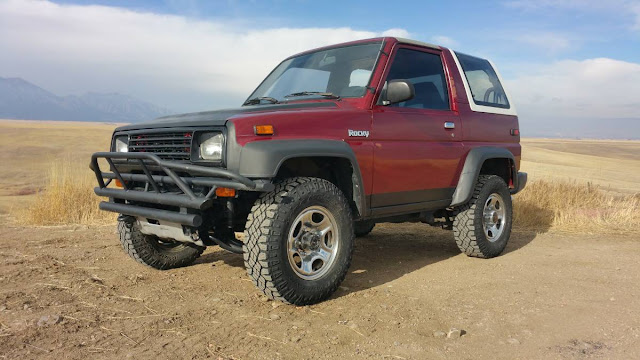 1990 Daihatsu Rocky 4×4


Great little 4×4, why spend 20k plus on a side by side? This little 4×4 is street legal and is the seller is only asking $3,200. You can modify this to your hearts content and still be in it for less than a side by side.
See more from the seller on
Craigslist
in Denver, CO.
1990 Daihatsu Rocky
4×4
Manual 5speed
2 piece removable Roof/Hard tops
1.6L 4 cylinder Great on Gas
25mpg
162k
New Emissions 12/5. Somebody had also asked, it is California Emissions compliant.
This is a pretty rare vehicle here in the states. You likely have never seen one. It's a daihatsu, which is owned by toyota. Similar to how a Scion is a Toyota. Great quality little mini japanese 4×4. Parts are easy to get as they are still in business and making new cars in Japan. Any local store can get parts, or rockauto, ebay etc.
Everything works on it. Every light works. Heat is very hot, A/C is cold, wipers and spray nozzles work, has a CD player. Has all brand new carpet, seat covers and floor mats. I got it with no carpet and just decided to give the Interior an upgrade.
This is a very reliable vehicle. Taken out of state on occasion. I just took it to the hills outside of Black Hawk the day after Thanksgiving and it did great. Always trusty and reliable.
This is very similar to a Suzuki Samurai or a Suzuki Sidekick, as well as The Geo version, the Tracker. Smaller and more economical than the Jeep Wrangler. Dodge also had something similar called the Raider.
It has some physical blemishes to note. Passenger side rear fender has a pretty good crack in it. Was going to get a replacement and paint it black to match. Also missing one piece of trim on the drivers side floor board. Has dents and dings througout. Rear hardtop plexiglass is in need of replacement. Works fine for now. I was going to get a new piece of plexiglass and cut it to fit. That's about the worst thing that is wrong with this vehicle.
All photos are of the actual vehicle except the magazine advertisement. Most photos were taken 12/15, the mountain shots were taken the day after Thanksgiving.
This is a rugged little 4×4. It's not luxurious, or quiet due to the tires. This vehicle is a blast to drive and is great in snow. I personally think it's in great shape for its age. Back to basics utilitarian 4 wheel drive.
Hate, Love, Want, Have a Story or Have Another One For Sale? Let us know in the comments BELOW.