1989 Ford Bronco 4-door Conversion by Magnum Motorcoach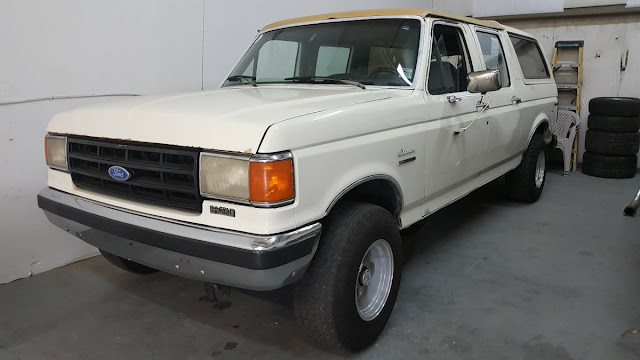 1989 Ford Bronco 4-Door Conversion
A 1989 Ford Bronco with a 4 door conversion. This Bronco could be built into a very unique 4×4. The price is right at $3,000 and you will likely not see another one like it.
From the Seller's Description on Craigslist.
Rare custom built 4-door Bronco by Magnum Motorcoach and it is very close to original. It runs great, drives and stops, however it will need some maintenance and basic repairs to be road worthy again. Fuel injected 5.8L/351W, C6 auto trans and electronic 4WD with automatic hubs.
What does it need? It needs maintenance updated and some basic repairs. The transmission leaks but still shifts through all of the gears. The body is really solid overall including the frame, the tailgate will need a little work. From the door handles up there is some rust on the roof and near the windows and rear cap, its not a basket case. The interior is good but could use some freshening. The 3 rows of seats look good, dash is not cracked and the door panels are nice. This truck has a custom A/C system mounted inside the rear of the Bronco cap that the wiring and hoses have been cut so it is not functional now but I'm sure it can be fixed.
There is alot of COOL in this unique Bronco and it will make an awesome ride for someone that is willing to do the work it needs. It turns heads wherever it goes!
Questions? Call or text Dave at 407-908-8178 to make an appointment to see it. Check out our website at www.DJsCarsFL.com or www.facebook.com/DJsCarsFL
Like This Car or Hate This Car? Let us know in the comments.