1986 Ferrari 328 GTS in Yellow – Supercar Saturday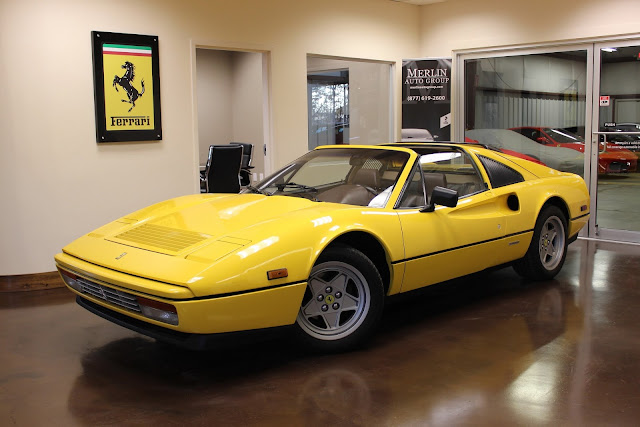 Yes, I have seen the comparisons between modern day mini-vans and 1980's era Ferraris. It is impressive how far car technology has come. However, the fact that a minivan can run with or out run an older Ferrari does not push them out of supercar territory. Pull up to you kid's school in this and see what the reaction is compared to your wife's Toyota Sienna. See more from the seller below the photos of this Ferrari in a rare yellow color.
We are pleased to present this 1986 Ferrari 328 GTS with 36k miles that's had two previous owners in North Carolina and Texas. While in our care, this 328 underwent a full belt service along with an oil change and brake flush. It's in excellent cosmetic condition aside from the leather shrinkage around the vents on the dash. The owner's manual and extra keys will be included.
Equipment Highlights
Marelli Microplex Ignition
Air Conditioning
Electric Windows
Heated Rear Window
Quartz Clock
Bosch K-Jetronic Fuel Injection w/ Lambda Control
Electric Left Side View Mirror
Electric Door Locks
Four Wheel Ventilated Disc Brakes
5-Speed Gearbox w/ Oil Pump
Limited Slip Differential
– Leasing and financing are available along with extended warranties. We can assist in arranging shipment to any worldwide destination. Each purchase includes two keys and the owner's manual.
In an effort to uphold our unyielding commitment to each client, we invest in a rigorous inspection process as well perform any recommended maintenance on our vehicles to ensure their integrity. We know it's more than just a car, its an experience. We want you to be comfortable and excited about any purchase you make from us, and we are willing to do whatever we can to achieve that.
To better serve you, Merlin Auto Group works by appointment. Please call 1-770-457-2699 to schedule yours today.
Hate, Love, Want, Have a Story or Have Another One For Sale? Let us know in the comments BELOW.