1984 Subaru BRAT GL 4X4 – Low Mileage Survivor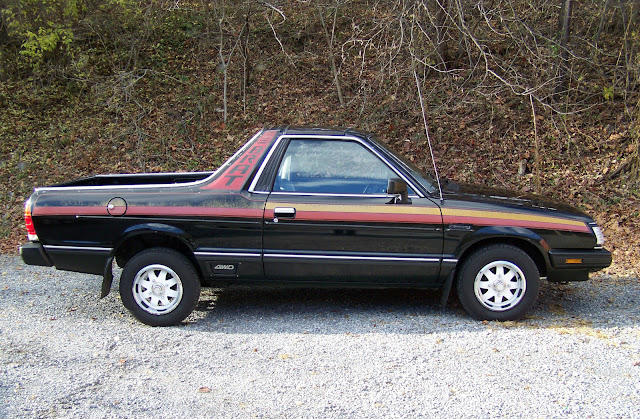 When is the last time you saw a Subaru Brat? Here is one in amazing survivor condition. See more from the seller on
Ebay
.
UP FOR AUCTION TODAY IS A TRUE TIME CAPSULE SUBARU BRAT FROM 1984.
IT'S ALL ORIGINAL UNMOLESTED ONE FAMILY OWNED 1984 SUBARU BRAT GL SPORT 4X4 WITH ONLY 68830 ORIGINAL MILES.
IT WAS PURCHASED ON 4/24/1984 AT VALLEY MOTORSPORTS IN ROANOKE VA. AND HAS BEEN IN THIS AREA IT'S WHOLE LIFE. ORIGINAL WINDOW STICKERS,OWNERS MANUALS,SUBARU WARRANTY DOCUMENTATION, AND STOCK NUMBER TAG INCLUDED. ALSO THE ORIGINAL KEY BOX WITH SUBARU LOGO AND KEYS.
IT HAS 1800 CC 1.8 ENGINE WITH 4 SPEED TRANSMISSION. ONLY 68830 ORIGINAL MILES. RUNS GREAT AND SHIFTS AS IT SHOULD. (IT'S A BIT COLD NATURED LIKE MOST CARBURETED ENGINES OF THE TIME.)
THIS BRAT IS EQUIPPED WITH RARE DEALER OPTIONED AIR CONDITIONING THAT WAS AN EXTRA $695.00 WHEN NEW. IT HAS BEEN CONVERTED TO R134A AND A NEW BELT INSTALLED. IT WORKS GREAT AND COOLS AS IT SHOULD. I STILL HAVE THE ORIGINAL SUBARU BELT THAT GOES WITH THE CAR.
IT ALSO HAD THE $385.00 INVESTMENT PROTECTION PACKAGE WHICH INCLUDED BODYGUARD PAINT PROTECTION AND UNDERCOATING, ALSO INTERIOR FABRIC PROTECTION. OTHER OPTIONS ALSO INCLUDED $45.00 BRAT ID STRIPE AND $69.00 SPECIAL SPORT STRIPES.
IT HAS THE FACTORY T TOPS THAT HAVE NEVER BEEN REMOVED FROM THE CAR. THE GASKETS AND SEALS ARE LIKE NEW.
THE WHEELS, TRIM RINGS, AND LUG NUTS ARE IN GREAT SHAPE AND ARE RUST FREE. TIRES ARE BRAND NEW.
THE ORIGINAL REAR SEATS, SEAT BELTS, AND HEAD RESTS ARE LIKE NEW DUE TO THE TRUCK ALWAYS HAVING A CAMPER TOP ON IT . IT EVEN HAS THE ORIGINAL COVERS STILL ON THE SEAT BELT RE-TRACTORS. ( I STILL HAVE THE CAMPER AND WILL INCLUDE IT WITH THE TRUCK IF WINNING BIDDER WANTS IT.)
THEY ARE ONLY ORIGINAL ONCE…..
THE SEATS ARE ALMOST PERFECT WITH NO TEARS OR CRACKING. THE REST OF THE INTERIOR IS IN GREAT SHAPE AS WELL WITH THE EXCEPTION OF 2 CRACKS ON THE DASH PAD. THE RADIO WORKS AND THE AIR BLOWS ICE COLD. WINDOWS WORK AS THEY SHOULD. IT EVEN HAS THE REAR SLIDING WINDOWS AND THEY WORK FLAWLESS. HEADLINER IS IN PERFECT SHAPE WITH NO SAGGING OR TEARS.
THE EXTERIOR IS IN ORIGINAL CONDITION AND WEARS MOST OF IT'S ORIGINAL PAINT WITH THE EXCEPTION OF THE ROOF AND VERY TOP PORTION ABOVE THE STRIPES ON THE REAR. IT WAS REPAINTED SOME YEARS AGO AND NOW THE CLEAR COAT IS FLAKING. THE PAINT ON THE HOOD IS THINING AND HOOD HAS A DENT IN CENTER AND ON RIGHT SIDE NEAR THE FENDER.
THERE ARE A COUPLE OF RUST SPOTS ON LEFT BED SIDE ABOUT ONE INCH IN DIAMETER. THEY HAVE BEEN TOUCHED UP WITH PAINT. THERE IS SOME RUST IN THE BOTTOM OF THE TAILGATE BUT NOTHING MAJOR. THE SPORT STRIPES ARE ALL ORIGINAL BUT HAVE BEGUN TO CRACK AND FADE. BOTH WHEEL TUBS IN THE BED HAVE RUST WITH THE LEFT SIDE BEING THE WORSE. THERE IS ALSO SOME RUST IN FRONT OF THE REAR WHEELS DOWN LOW ON THE ROCKERS.
OVERALL THIS IS A VERY NICE AND RARE SUBARU BRAT THAT IS ABOUT 95 PERCENT ORIGINAL. IT'S NOT RUST FREE BUT COMPARED TO MOST OF THESE IF YOU CAN FIND ONE THEY ARE COMPLETE RUST BUCKETS. THIS ONE IS NOT.
IT DRIVES AS IT SHOULD AND SHIFTS AS IT SHOULD. IT HAS JUST PASSED VA. SAFETY INSPECTION AND IS READY FOR A NEW OWNER. DRIVE IT LIKE IT IS OR RESTORE THE EXTERIOR. THAT WILL BE UP TO THE NEW OWNER.
THESE BRATS DON'T COME AROUND VERY OFTEN, ESPECIALLY IN THIS ORIGINAL CONDITION,SO DON'T MISS OUT ON THE OPPORTUNITY TO OWN A PIECE OF HISTORY.
ADDITIONAL PHOTOS ARE AVAILABLE
NOW FOR THE DISCLAIMER….
WITH ALL BEING SAID. IT IS A USED 32 YEAR OLD VEHICLE AND IS BEING SOLD "AS IS" WITH NO WARRANTY EXPRESSED OR IMPLIED. I AM A LICENSED USED CAR DEALER IN THE STATE OF VIRGINIA. A $129.00 PROCESSING FEE WILL BE APPLIED TO THE FINAL WINNING BID.
I DO HAVE A LOW RESERVE ON THE TRUCK BUT PLEASE DON'T ASK ME WHAT THAT IS BECAUSE I INTEND TO LET THE AUCTION TAKE IT'S COURSE.
Hate, Love, Want, Have a Story or Have Another One For Sale? Let us know in the comments BELOW.