1984 Mitsubishi Pajero Custom Convertible – Get Some Sun Sunday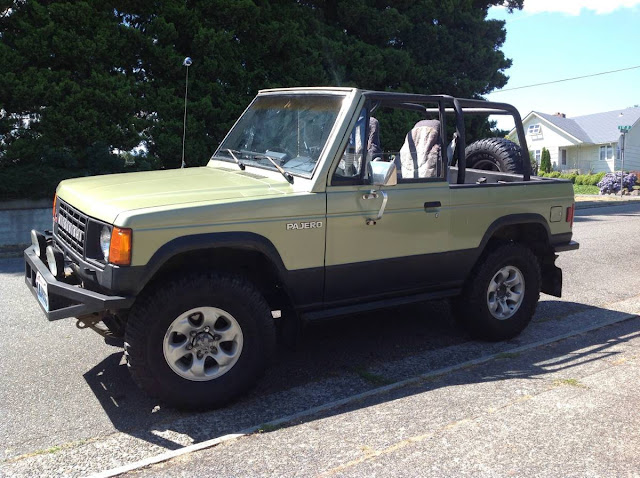 No this is not the Diesel Pajero it is a gas engined model. However, that engine has been rebuilt and I have never seen an open top Pajero/Montero. Read more from the seller about this open top 4×4. The Seller is asking $4,500.
From the seller on Craigslist:
Up for sale is my 1984 Mitsubishi Pajero. She's a beaut and incredibly rare and incredibly tough. If you don't know about these incredible vehicles here is a bit of folklore and history from Wikipedia…
"The Mitsubishi Pajero (/pəˈdʒɛroʊ/; Spanish: [paˈxeɾo]; Japanese パジェロ [padʑeɽo])[1][2] is a sport utility vehicle manufactured by Mitsubishi. It was named after Leopardus pajeros, the Pampas cat, which is native to the Patagonia plateau region of southern Argentina.[3] But pajero in Spanish is also a common term of abuse, usually translated as "wanker" or "tosser", thus perhaps why alternative names have been used for many markets. It is known as the Mitsubishi Montero (meaning "mountain hunter"[4]) in the Americas (except Brazil and Jamaica), and Spain, while in the United Kingdom it is known as the Mitsubishi Shogun.
The first Pajero prototype was unveiled at the Tokyo Motor Show in November 1973. The Pajero II prototype followed in 1978, five years later. Mitsubishi's aim was to create more of a recreational vehicle, not just an SUV, as an alternative to the Toyota Land Cruiser and the Nissan Patrol for Japanese buyers.
In January 1983, the first Pajero made its debut at the Paris Dakar Rally, taking first place in 1985 at only the third attempt. To date, the Pajero is the most successful vehicle in the Dakar Rally (winning its class 7 out of the last 10 races, and 15 of the full 32 races).[5] This not only gave the Pajero an off-road reputation, but also helped in the sales department. Other wins followed, at events such as the Australasian Safari and Northern Forest."
So… the Pajero is legendary. They sold them all over the world except… here in the states. She was badged as Pajero in the US. It is the same body style as the early Gen 1 Montero and Dodge Raider and is listed on title as a Dodge Raider.
This particular Pajero has been modified in a few important ways. Most importantly, it has a removable convertible hardtop with heavy duty PRO custom roll cage. She also has custom bumpers, rock rails, and engine guards. It has a one inch body lift, shackle lift, and a five speed transmission. Professional Rhino line (serioiusly almost 1/4 inch thick!) around the bumpers and throughout the interior. Upgraded seats and black leather-like interior panels. She's powered by a 2.4 liter TURBO GAS engine with an SDS electronic fuel injection system (the fuel injection system is matched to this particular engine, is FULLY programable, and cost $1500) This is NOT the turbo diesel. Other goodies include PIAA driving lights, Aisin manual locking hubs, Garmin GPS, Alpine stereo, Gas shocks, and 32″ mudder tires.
FOR THOSE WHO HAVE ASKED: THIS IS NOT TURBO DIESEL. IT IS TURBO GAS.
The Pajero has about 110k miles on its odometer. Engine has been rebuilt. It has a body lift as well as heavy duty shackles. All modifications are professionally done including roll cage, bumpers, skid plates, top, etc. It also has a Garmin GPS as well as an Alpine sound system. Really neat and collectible rig.
So… If you've been looking for the perfect summer convertible that is eye tuning and really loves the dirt and is incredibly FUN… AND you've always wanted a Pajero… here is your opportunity. I've owned Range Rovers and Jeeps and this is by far more fun!
Sale Price: $6500
REDUCED TO $4500!! First with $4500 cash gets her!!!
The Pajero is stored in Bremerton but I'll be driving it to Seattle. We can show it in either. Cheers!