1978 Toyota Corolla Deluxe Woody Wagon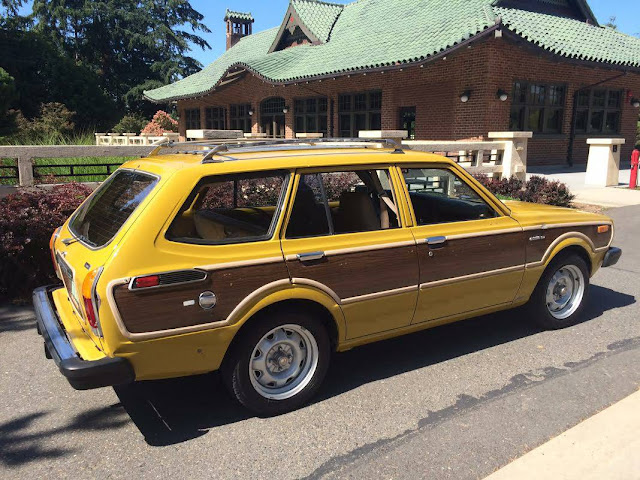 Back in the 1970s these little Corolla Wagons were common place. Now they seem very weird, thus our selection for keep cars weird Wednesday. See more from the seller on
Craigslist
Below the Photos.
Offering up a great little wagon. Mint? No. Show car? Nope, but a scarce car to find in this condition. Straight body for the most part with a few small dents, bruises and battle scars but plenty presentable and it's OG mustard paint polishes up well. The only rust is on the front valance (have a replacement), a bit on the lower tailgate opening and a few bubbles here and there. This a strong running and shifting car with a recently transplanted 1980 3tc 1800 in front of a 5spd.. A Weber progressive 2bbl, Pacesetter header and 2.5″ exhaust exiting through a Superflow muffler help move it along. The interior is complete and better than average minus a glove box door (working on that) Front Seats could use some attention. A set of (5) 15″ mid-80s Cressida spare wheels add the OEM-but-oversized look to the car. Vintage 1978 WA plates and Dealer frame add a finishing period touch.
New parts include re-gasketed 3tc, clutch with turned flywheel, shocks, clutch slave and hose, all engine hoses, shocks, header and complete exhaust system, U-joints
Simply, what we have is an old, fun, great running and driving car that is rarely seen on the street and is ready for your personalization. Drive something unique!
Please call, text or email Shawn for details or for viewing. Clean title, cash only sale. No scammers, no help needed in selling.
*This car WILL BE SOLD. Not "testing the waters". If you're interested, by all means speak up. I fully understand that all things are only worth what the buying public is willing to pay. Come with your offers. May trade for other pre-1980 vehicle. S
Hate, Love, Want, Have a Story or Have Another One For Sale? Let us know in the comments BELOW.