1974 Jaguar E-Type XKE Roadster V-12 in Yellow – Get Some Sun Sunday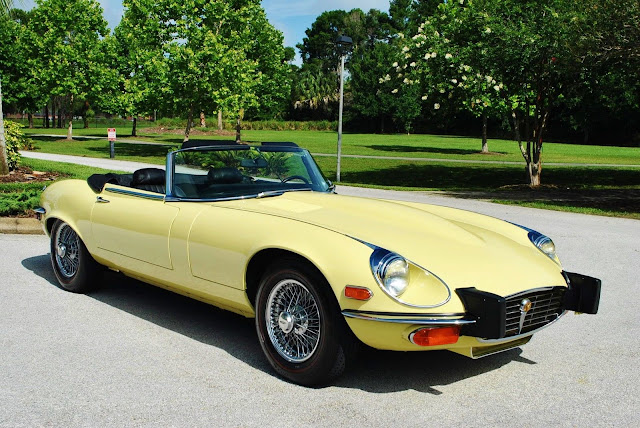 Even the rubber bumpers could't ruin this beauty. This 1974 Jaguar E-Type is up for auction on eBay. The car has 27,416 original miles and looks the part. See more from the seller below the beautiful photos.
From the Seller on Ebay:
Original 5.3L V-12 Engine
Wow! This is an absolutely gorgeous 1974 Jaguar XKE Roadster. The car is simply immaculate in every way! The car retains its original colors and is believed to be 27,416 Actual Miles! The Pale Primrose paint finish is in outstanding show condition- it is nearly flawless! The chrome bumpers are also beautiful with no dings or dents! This sleek European beauty even has the factory wire wheels with redline tires. The interior is just as exceptional as the rest of the car and appears to be all original! The car is powered by the original V-12 Engine and the original transmission, both of which perform like new! Some of the perks include Air Conditioning, an Aftermarket Stereo and an Automatic Transmission, not to mention all the restoration receipts and documents! All around, this is one of the nicest low mileage Jaguars' that I have ever seen and it is ready show!
"At a time when most cars had drum brakes, live rear axles, and mediocre performance, the E-Type sprang on the scene with 150 mph and a sub-7 second 0-60 time, monocoque construction, disc brakes, rack and pinion steering, independent front and rear suspension, and unrivaled looks. The E-Type was based on Jaguar's

D-Type

racing car which had won the 24 Hours of Le Mans three consecutive years (1955-1957) and, as such, it employed the racing design of a body tub attached to a tubular framework, with the engine bolted directly to the framework.
In March 2008, the Jaguar E-Type ranked first in a

The Daily Telegraph

online list of the world's "100 most beautiful cars" of all time.
In 2004,

Sports Car International magazine placed the E-Type at number one on their list of

Top Sports Cars of the 1960s."- Wikipedia.com
Hagerty Valuation Tools Current Values
·
#1 Concours
$146,000
·
#2 Excellent
$109,000
#2 vehicles could win a local or regional show. They can be former #1 vehicles that have been driven or have aged. Seasoned observers will have to look closely for flaws, but will be able to find some not seen by the general public. The paint, chrome, glass and finishes will all appear as excellent. No excessive smoke will be seen on startup, no unusual noises will emanate from the engine. The vehicle will drive as a new vehicle of its era would. The one word description for #2 vehicles is "excellent."
·
#3 Good
$65,100
·
#4 Fair
$46,000
Value Adjustments
-15% for auto trans. +10% for a/c. +5% for wire wheels.
The photo gallery below contains over
30
pictures…. Enjoy!
Should you like to negotiate a fair and reasonable offer please call
Hate, Love, Want, Have a Story or Have Another One For Sale? Let us know in the comments BELOW.