1973 Toyota Hilux Pickup Truck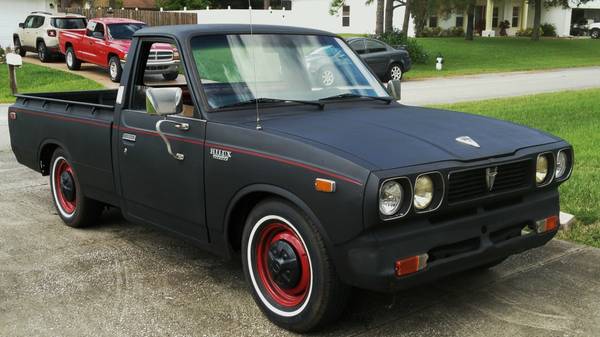 1973 Toyota Hilux Mini-Truck
From the seller on Craigslist.
Extremely rare 1973 Toyota Hilux in awesome shape.
No rust. 4 speed manual. Original drive train. Thing runs and drives great for a 43-year-old truck.
Interior has been completely redone (see pictures)
Everything works, including all lights and gauges. No leaks or noises. A truly excellent base for a custom project. Has the front end reminiscent of the 70's Nissan skylines with the rounded headlights
Included as shown is a box of about $1500 in extra new parts for it, including an entire top end refresh if you decide to keep the drivetrain stock (pistons, rings, gaskets, waterpump, etc.)as well as an extra bumper and tail gate. Currently lowered about 4 inches and sitting flush front and rear. Rides great, not hard at all. Tires and brakes are excellent. People stare at this thing like crazy going down the road. You wouldn't believe how many thumbs up you get haha.
$5000 firm for the truck, clean FL title, and all extra parts.
Call or text only if you have $5000. No trades unless I can sell it for $5k+