1973 Oldsmobile Hurst/Olds W30 455 V8 With Swivel Bucket Seats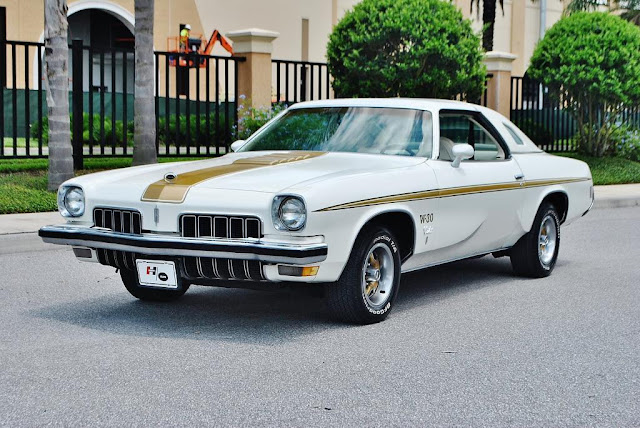 1973 Olds Hurst W30 455 V8 with Swivel Bucket Seats
Most people think the Muscle Car era was over by 1973. However, Oldsmobile snuck this W30 Hurst through the system with a 455 Big Block V8. Sure it was hampered by emissions controls, but a 455 cubic inch V8 engine could blow through most of the restrictive nature of the controls. With modern tuning you should be able to get a ton of horsepower out of the huge engine. See more about this very rare 1970s muscle car below the photos. Oh, and it has very cool swivel bucket seats which along with the 455 make this car a show stopper.
This rare Hurst is one of my favorite cars in our inventory! The powerful 455 V8 engine delivers a very enjoyable ride that will put a smile on your face every time! The hurst/olds came equipped with the Turbo Hydra-Matic 400, a legendary performer that had a 3,000-rpm stall-speed torque converter, and the Hurst Dual-Gate shifter. They also had power front disc brakes and the Oldsmobile Rally suspension, which included front and rear anti-roll bars, heavy-duty shocks and stiffer coil springs. Hurst Performance claimed 0-to-60 mph times of 6.5 seconds back in the day: not bad for a 4,000-pound car! This is a great opportunity to own an extremely rare collector car that will only increase in value!
Hate, Love, Want, Have a Story or Have Another One For Sale? Let us know in the comments BELOW.