1968 Camaro Z28 – Muscle Car Monday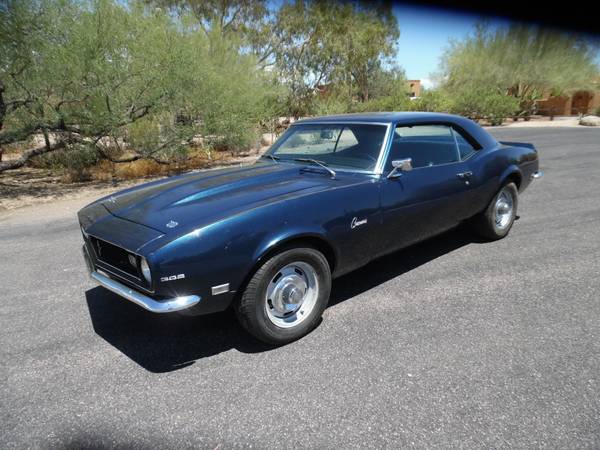 A nice looking Chevy Camaro Z28 that is mostly original. The car is dark blue but it was originally
Sea Frost Green, Paint code PP. The car is original minus the dark blue paint. The Z28s are hard to find in any type of original condition. The seller is asking
$31,450.00,
See more from the seller below the photos.
1968 Camaro Z28 – Real Z28 with original window sticker. The same person had owned this Z28 since the early 70's. Has lots of detailed receipts, also book log for stuff he did over the years and like I said original window sticker. Has the original tire size sticker in the glove box door that is 100% original along with the glove box. It has it's original 12 Bolt posi 3.73 gears with the very rare rear sway bar that they talk about in Jerry MacNeish book on 1967 and 1968 Camaro Z28's. The Z28 has had one paint job only back in the 80's. The original color was Sea Frost Green, Paint code PP. The Z28 was painted Dark Blue back in the 80's. I have a original picture with it's original paint that the owner took in the 70's. The body over all is very solid. Black standard original interior with a Rare Fold Down rear seat that is pretty rare for a 68 Z28, also rear window defogger. The interior is in really good shape and pretty much all original. The original 302 MO was gone early in it's life, when the guy bought it in the 70's it had a 1970 Real Deal LT1 out of a 1970 Z28, it was also out of a 4spd 70 Z28 car and all the numbers are still on the pad. This was a early built car so the fender emblems say 302, the later built cars said Z28 an you can read about that in Jerry MacNeish book. Over all the Z28 is in good shape for it's age and was always taken care of it's whole life. Also comes with correct MO 1968 Z28 Block with caps. Please if your serious, email your phone number and I will get right back with you, please no emails, just your phone number, that's the only way I will respond, thank you. I really don't want to sell her but I just bought a land/building deal.
Hate, Love, Want, Have a Story or Have Another One For Sale? Let us know in the comments BELOW.