1968 AMX American Motors Muscle Car – Muscle Car Monday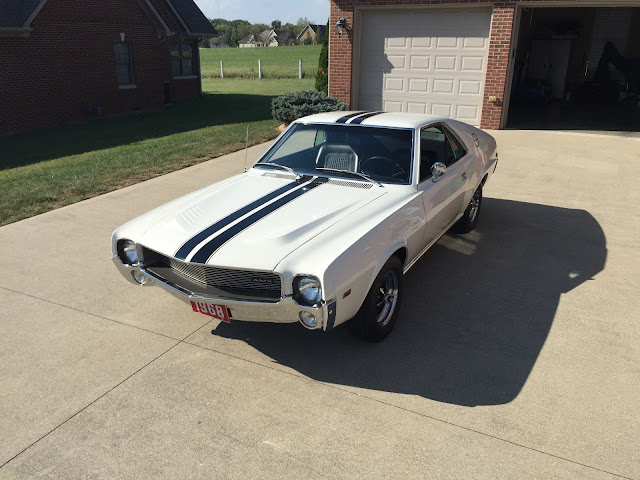 1968 AMX Muscle Car
I have a soft spot for the forgotten cars, this AMX qualifies. This car was different when different wasn't cool. The AMX looked almost like a hot hatch 15 years before there was such a thing. The car was lost in a sea of Mustangs, Camaros and Mopars.
Since the car is so rare, you will stand out at any car show. There is almost nothing you can do to stand out in the Mustang or Camaro world. It has all been done. Show up with this AMX and you have an instant hit. See more from the seller below the photos.
ONLY 967 BUILT WITH THIS OPTIONS PACKAGE<<
I'm listing this car for a friend of mine. This is a Really Nice Rare Car. This car Starts, Runs, & Drives Excellent. No Short Cuts made in restoring this car. There is so much to list. The Photos are current, taken in the past week.
> Car was restored in 2007. New Paint work by Professionals. (Some say Better Paint than Original.) Factory Colors. Frost White with Black Stripes. Rebuilt Motor & Transmission. New Seat Covers. New Headliner. New Carpet. New Door & Trunk Gaskets.
> Strong 390 Motor. 315 Factory HP. Crane Cam. Holley Carb. With less than 10,000 miles on motor.
> 3-Speed Automatic (Shift-O-Matic) Transmission with less than 5,000 miles.
> This Car does have Factory A/C. However it does not work at this time. Its all there. But I was told that there is a slow leak in the coolant system. Been planning on fixing it? Just haven't found the right people to fix it.
> Tilt Steering Wheel.
> BF Goodrich Red Line Tires. 5,000 miles on rear tires. 500 miles on front.
> All the Chrome has been redone.
> Have a lot of paperwork & receipts for the last 15 years or so. Have Original Window Sticker & Bill of Sales. Original Manual.
> Car has won some trophies and plaques at car shows. Was invited to attend Concours D' Elegance Show in Lexington, Kentucky in 2010. Have book with Photo of car.
See More From The Seller on
Ebay
.
Hate, Love, Want, Have a Story or Have Another One For Sale? Let us know in the comments BELOW.