1960 Autobianchi Bianchina Trasformabile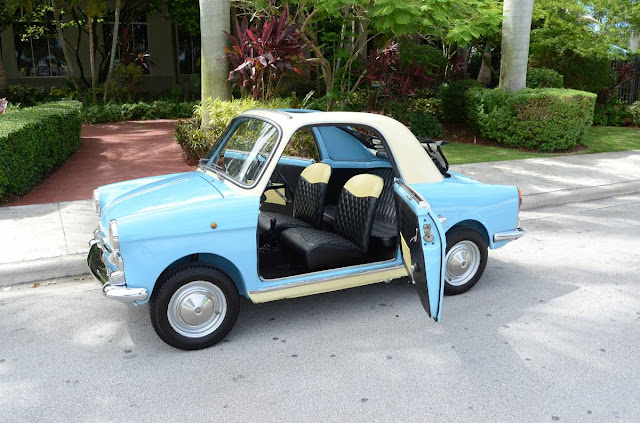 Fantastic little open top Italian Micro Car, the Autobianchi Bianchina Trasformabile. The seller is asking $27,000.
Up for sale is a beautiful 1960 Autobianchi Bianchina Trasformabile. Many hours and money has been invested in this nice Italian car. These are pretty rare cars even in Italy, very few made. Factory suicide doors! This is a true collector's car.
One of the world's finest attractive micro cars!
This Car drives exceptionally well, you can take it to the car shows & for weekend cruises. Definitely gets a lot of attention & questions at the cars and coffee. The Bianchina is powered by its 500cc engine, air cooled, 2-cylinder. It moves pretty quick! It has a 4 speed manual transmission and 4-wheel drum brakes. Engine Bay is well detailed. Has a nice exhaust that sounds really nice. Mechanically the car is sound! See the video.
The car received a full restoration about 4 years ago now. The Body is straight as an arrow. All doors, trunk, hood are all aligned like they should. It has always been garage kept and well taken care. All the exterior chromes, trim, latches, bumperettes are in great shape. Underneath the floor pans are in good shape, everything was completely redone and properly restored.
The Interior is splendid and contrast well to the exterior 2 tone paint, Black Italian upholstery has been fitted, and tastefully done, and overall condition looks new. No tears on the seats or cracks on dashboard. All the glass and chrome trim are very nice. Immaculate black roll-up top!
I'm located in Miami about 30 minutes away from the airport. Feel free to come see the car in person. Any inquires email me. $500 non-refundable deposit required within 24hrs of buying. Sold As-is. Thanks for looking.
If you're looking to finance I would recommend JJ Best. They can finance your classic car or hot rod and are very pleasant to work with.
This Autobianchi Bianchina is a quality Italian micro car that has a very unique design that is rarely seen. For fun around town in a car that's sure to gather its fair share of smiles, this little Autobianchi Bianchina Transformable is a great little car for any occasion.
Car comes with it's tool case and spare tire. This is a rare car,
Hate, Love, Want, Have a Story or Have Another One For Sale? Let us know in the comments BELOW.