1951 Fiat 500 Topolino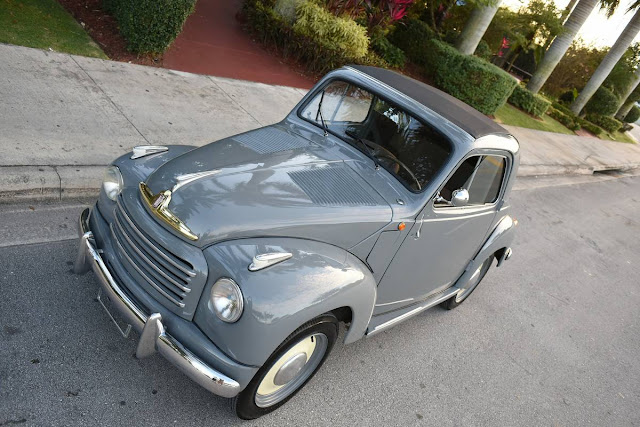 Jay Leno loves these little Italian cars, he has great taste. This great looking example is for sale in Florida. See more from the seller below the photos. He is asking $15,900.
Up for sale is a beautiful 1951 Fiat 500 Topolino. The Fiat 500 Topolino were the first micro cars of its time. The name "Topolino" translates literally as "little mouse" in Italian, but is also the Italian name for Mickey Mouse. These are pretty rare cars in the USA, and what makes this one unique is its convertible & suicide doors!

Video: https://www.youtube.com/watch?v=RsKJMn0Mi6E&t

One of the world's most attractive micro cars!

This Car drives well, you can take it to the car shows & for weekend cruises. Definitely will get lots of attention & questions at the cars and coffee meets.

The car received a restoration couple years ago. The Fiat is powered by it's 500cc engine, It moves pretty good. It has a 4 speed manual transmission. The topolino came with a water cooled system which was an upgrade. Has a nice exhaust that sounds really nice. Has weber carburetor. The Body is straight as an arrow. All doors, trunk, hood are all aligned like they should. It has always been garage kept and well taken care. All the exterior chromes are in great shape. Interior cloth tan is in great shape as well as the top. Tachometer works.
Hate, Love, Want, Have a Story or Have Another One For Sale? Let us know in the comments BELOW.