1941 Buick Super 5-Passenger Sport Coupe For Sale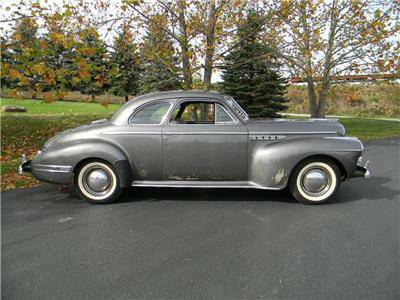 Great looking Buick from 1941! See more from the seller on Craigslist:
1941 Buick Super 5-Passenger Sport Coupe $19,500.00
This Buick has been properly stored indoors for almost 40 years. It is complete down to the original paperwork & bumper jack.
This Buick has never been wrecked or taken apart for restoration. It did have 1 lacquer repaint probably back in the 50's or 60's matching the original color. They did not paint the firewall, door jams or under the trunk lid. The body, floor pan and chassis are all rock solid. The doors, hood, and trunk lid open, close and lock correctly with their original keys.
All of the clear window glass is original to the car and the door windows roll up and down easily. The cloth interior is all original and is not moth eaten, stained or moldy and is still very nice and presentable. In 1958 a trim shop put seat covers over the original seats, I know this because they signed and dated the back of one cover that I removed. I left the drivers front seat bottom cover on.
The dashboard is in nice original condition with the fuel, oil, temperature, and generator instrument gauges in good working order, the clock does not work. The speedometer shows 13,878 but after driving the car I noticed the needle bounces but does not register the mileage. I can guarantee it is not 113,878. You will also note that this is a factory radio delete car with the Super nameplate installed over the radio opening.
We changed all of the fluids, did an electrical tune-up, installed a new battery, had the original radiator re-cored, had the water pump restored along with the original gas tank with a new sending unit, new brake master cylinder, wheel cylinders and hoses. New muffler and exhaust pipe and both carburetors were rebuilt.
The Buick Straight 8 engine with factory compound (Dual) carbs starts at the press of the gas pedal and doesn't smoke, tick or knock, it runs so smooth that you can put a glass of water on top of the mini bat wing air cleaner while it is idling and it won't spill.
The 3-speed manual transmission shifts smoothly through the gears and the clutch engages correctly. The car steers easily and the new brake system makes it stop on a dime.
This 1941 Buick Super comes with its original factory paperwork and a clean clear West Virginia Title.
Hate, Love, Want, Have a Story or Have Another One For Sale? Let us know in the comments BELOW.