1933 Diamond T – 927 with Indian, Harley Davidson, Excellsior Board Track Motorcycles – Great Mini Collection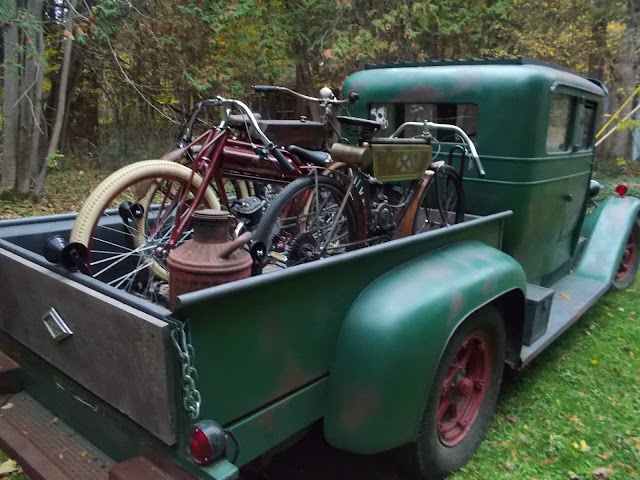 This is a very cool mini collection that includes a Diamond T pickup truck and 3 board track racing motorcycles. See more from the seller below the photos. Also, how did a name like Diamond T go out of business. The name itself is ultra cool and would look awesome on a modern day pickup truck. Indian has been revived, how about Diamond T?
"HARLEY & the Davidsons," eat your heart out! This is a once in a lifetime opportunity to own this piece of automotive history. 1933 Diamond T Bus, converted with a 1927 Auburn Sedan with suicide doors and adding a pickup truck bed to make the first ever extended cab. In the bed, you'll find three, yes,(3) motorcycles, which are designed to be board track racers. One is an Indian, one a Harley Davidson and the other a Excelsior. The truck has a 1960's six cylinder engine with four speed transmission. All rebuilt with less than 200 miles on the vehicle. Drive TODAY! Unbelievable attention getter. NO One owns one of these! One the road, drivable and trustworthy! The 3 motorcycles are all drivable as well. Very low reserve. 100's of hours spent on the build! Good luck!
Hate, Love, Want, Have a Story or Have Another One For Sale? Let us know in the comments BELOW.